The Journey of lockdown
Last shoot without Mask: Isha's Holi Party
Last office day without mask
The date was 16th March. Corona news had just started to gain momentum and we at the office decided to do a spring cleaning to make most of the free time we were getting. This was also the day we decided we will go on a short work from home spree and regroup after a fortnight or so. Little did we know, life was about to change.
Date: 23rd March
Initially, we all hated the lockdown. Work wise, it was a pain to transfer data (we are talking terabytes and terabytes of photos and videos), coordinate with colleagues scattered across the city and be productive in general! Life outside work wasn't fun either, planning for getting household supplies felt like planning for an army mission, we were all cooped up in our houses without human contact for weeks and mostly, we didn't get to do the one thing we love most … travel ☹ (from a team that takes 60 flights annually on an average, the last one is kind of a big deal)
After a while though, we humans did what we do best, adapt. We leaned how to do office work from home and also have a 'social' life online. We learned how to manage a client call while cooking and better still a lot of us learned how to cook 😉
This went on for up until June end and then came the rays of sunshine that we all needed…Unlocks.
The country started to warm up to the idea that life needs to move on albeit with precautions. We at Reels and Frames, soon joined the bandwagon.
Travel during unlocks
We started getting inquiries for weddings and pre-wedding celebrations. Initially, we were skeptical and to some extend paranoid. But over the course of the last two months (and with multiple events shot across cities), here is what we've learned and how we've managed so far.
1. Choice of transport – For weddings that are outside of Mumbai and within a reasonable travel radius, we've managed to travel by road. Food made at home ensures no stopping at mid-ways and less points of contact (also, home food rocks!). We get our drivers tested before the travel, so that ensures another layer of security.
2. Tests tests tests – Once we reach the destination, we isolate ourselves for a few days and get a swab and blood test done. If in Mumbai, office becomes a covid testing center!
Its all fun till the swab comes out
Putting our blood and sweat into work. Quite literally
3. Safety on location – Carrying our own oxymeters and contactless thermometers allows us to check vitals on the go, something that puts us at ease as much as it puts the clients at ease. We have our set of masks, hand sanitizer and maintain distance from the guests while shooting.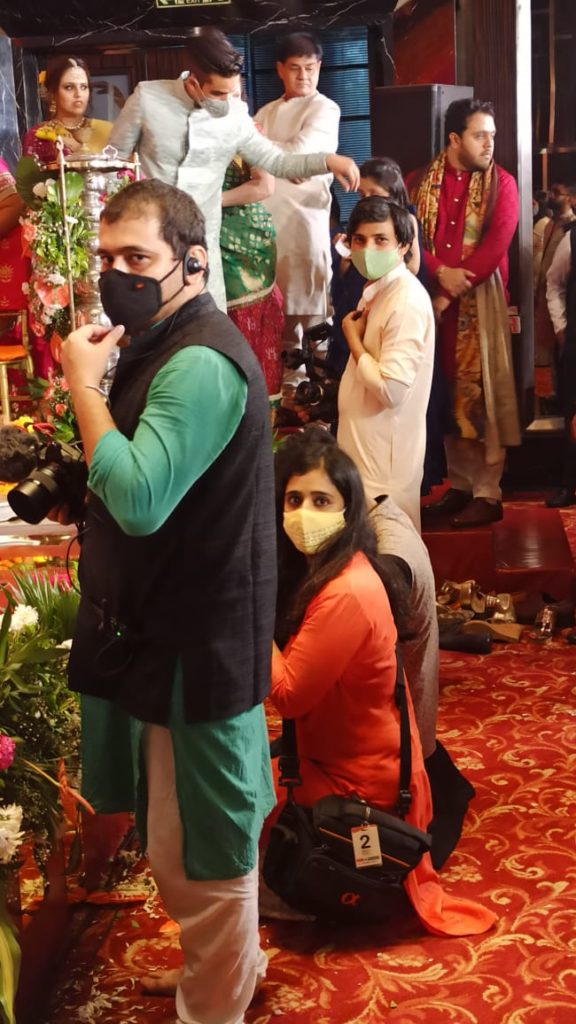 What do you call a wedding during corona? mask-querade party 😀
4. Post event tests – Since a corona carrier may be asymptomatic, we also do tests once we reach back to our respective houses. Years of doing double backup of data at location has taught us the importance of being doubly sure 😉
All systems go
So how is shooting in corona times you ask? It is a reminder that human spirit alone can triumph all catastrophes. Every time we see the smiling face of a bride on our camera's LCD, life comes back to normal and while she can't see us, rest assured, even we are smiling ear to ear … behind our masks 😊­­­­­­­­­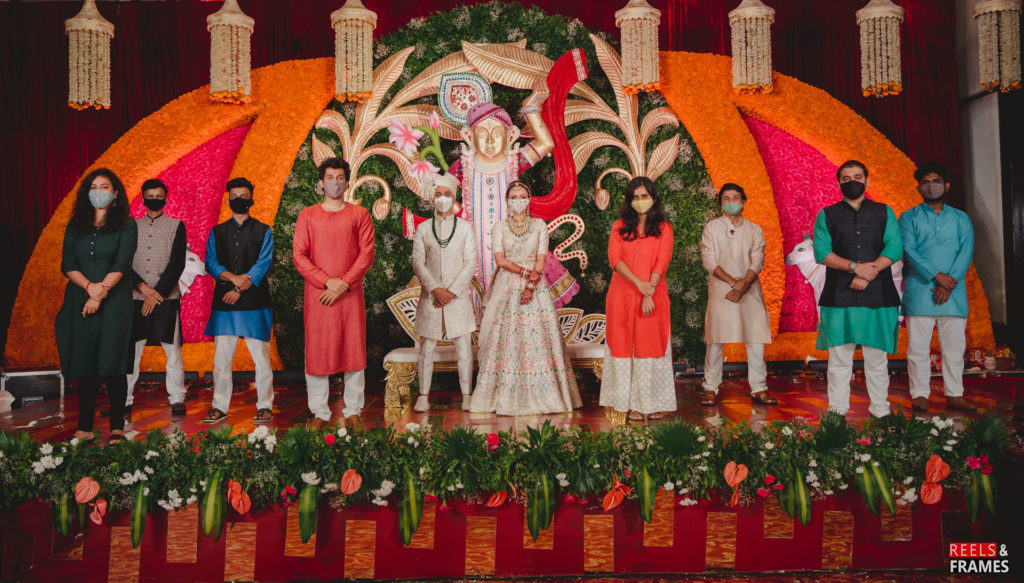 Most recent shoot … with masks